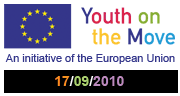 According to latest EU figures, "Five million young Europeans are looking for a job. Many of them will miss opportunities because they lack the right qualifications or experience". In response, the European Commission recently launched Youth on the Move, a new flagship initiative aimed at helping young people to "gain the knowledge, skills and experience they need to make their first job a reality".
As the EU seeks to deliver its wider Europe 2020 Strategy, this International Symposium will look at how we can build on current EU actions and existing educational cooperation initiatives, such as the Erasmus programme, through a wider framework that encourages more young people to participate in the full education and training cycle.
The Centre for Parliamentary Studies welcomes the participation of all key partners, responsible authorities and stakeholders. The Symposium will support the exchange of ideas and encourage delegates to engage in thought-provoking topical debate.
The event will take place in:
The Silken Hotel, Brussels

Tuesday 9th November 2010

KEY SPEAKERS:

Mr. Jan Pakulski
Head of Unit - Cooperation and International Programmes
DG Education and Culture, European Commission

Mr. Georges Bingen
Head of Unit - People Programme, Marie-Curie Actions
DG Education and Culture, European Commission
For further details and registration:
Jessie Punia
Public Policy Exchange
Tel: +44 (0) 845 606 1535
Fax: +44 (0) 845 606 1539